Y'all… I wrote this blog post nearly 2 years ago and realized I never published it.  What a fun little time capsule to re-visit!  Since this was a quick vacation, there's a mix of iPhone and camera pictures here, but it's fun to share, nonetheless!
Dated: April 13, 2015
To say that I love Colorado is a complete understatement. It's one of my most favorite places in the world, and I always look forward to visiting. My brother lives with his sweet wife at the base of the Rockies in a suburb of Denver, and is the epitome of "Colorado Living". He is super active in the outdoors arena with biking, hiking, skiing/snowboarding, etc. He knows all the best places to eat (and is a pretty amazing chef, to boot!), holds the best company with the friends he keeps, and is just a blast to hang out with. My husband and I had the opportunity to travel there again this spring and had a great time! You know I love taking pictures, so here's a quick recap of our long weekend in the Rockies.
From Colfax to the Rockies
After landing just before lunchtime, we left Denver International and headed towards Downtown Denver to meet one of my oldest and dearest friends (and her sweet baby boy!) for lunch at the Denver Biscuit Company. I had the biscuit pot pie – the rest of the table had these amazing biscuit sandwich stacks. Amazing! I've also heard they have really great pizza.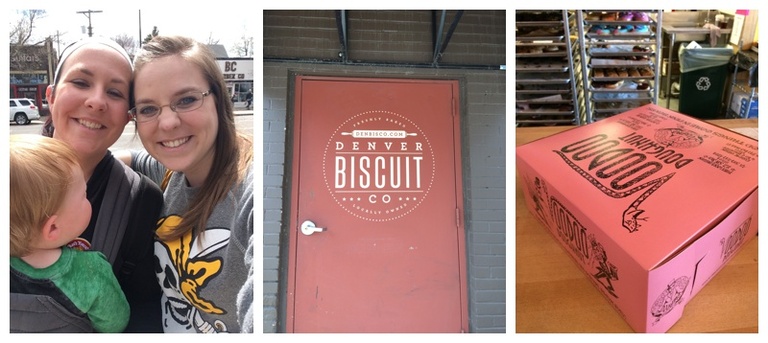 Colfax Avenue is the longest main street in the nation. Pretty neat! Pretty crazy. After lunch, we headed to down to VooDoo Doughnuts. < drool > Got the VooDoo Dozen and headed onward.
On Day Two, we went to OPENING DAY at the Rockies! We love Rockies Baseball, and Dinger with his belly shirt. Baseball! America! Mountain View! We had a really great time there as always, we took a petty cab (fit 4 people in there!), and I also called for my first Uber ride.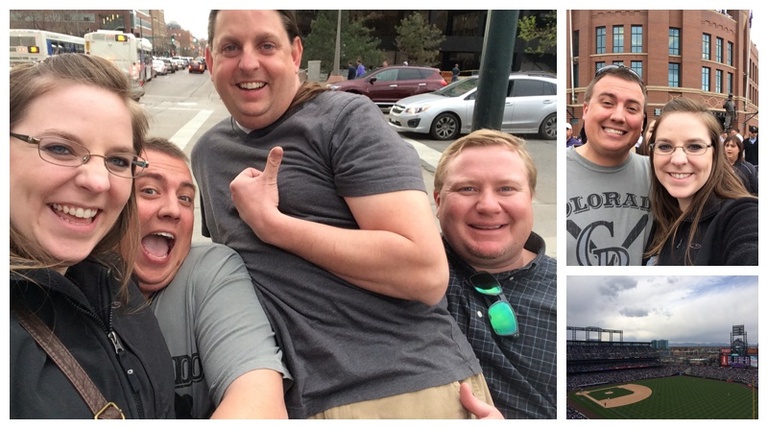 The High Life in Denver
Day 3, we had a "fun-venture" and went to Heritage Square and rode the Alpine Slide. That thing was ridiculous! We took a lift to the top of the mountain, grabbed our crazy bobsled things, and headed to the slide. I have never been so nervous! Totally thought I'd fly right out of the slide, and was seriously questioning why I wasn't given a helmet, knee/elbow pads, required to suit up in a sumo suit, and also be encased in a giant bubble for protection. (Okay, maybe that's a little overboard!). Even though I went slow as a granny, it was super fun and had some amazing views of Golden, CO.
We also hit up the Go Karts, where I also questioned the lack of super safety gear with how fast I felt like I was going. I finished 3rd (of the 4 in our group). Haha! Again, we're talking about me, Little-Miss Slow-Poke… but I got a (little) fearless!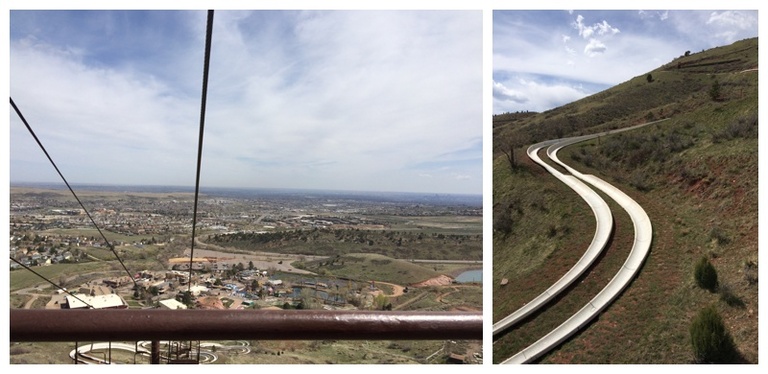 Day 4, We took a hike in Golden, CO – Michale's first hike in Colorado, and my first successful incline-hike to the top! Only about 30 minutes to the top and the view was incredible. We could see Downtown Denver to the East, Coors Brewery, the town of Golden, and Colorado School of the Mines to the West and South West. We were sucking air (minus my brother, of course… he lives here!) but the hard work was all worth it.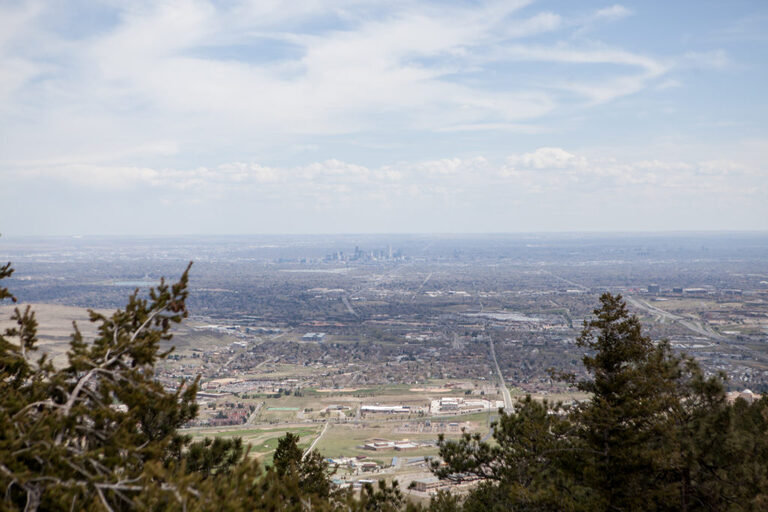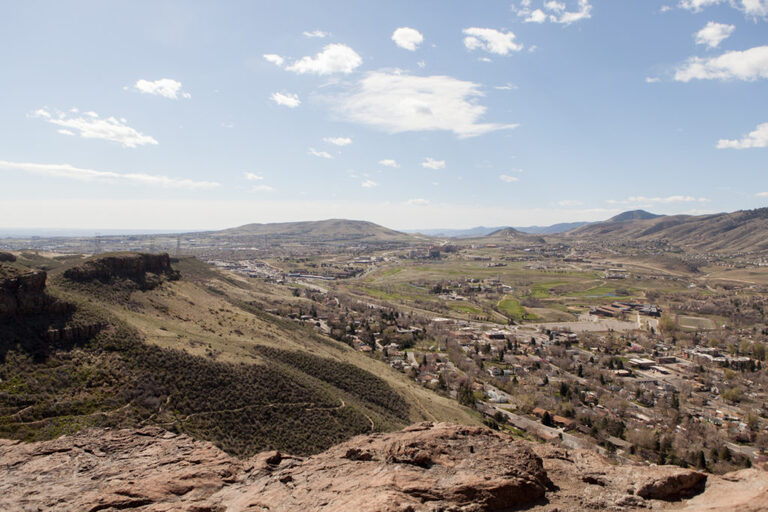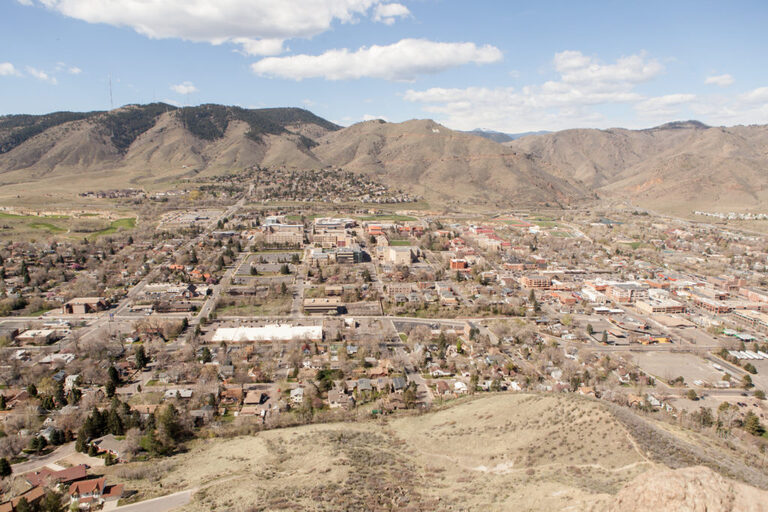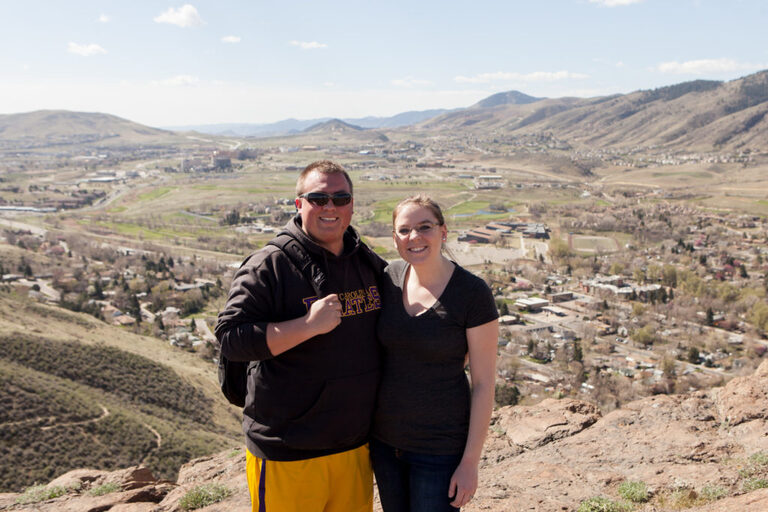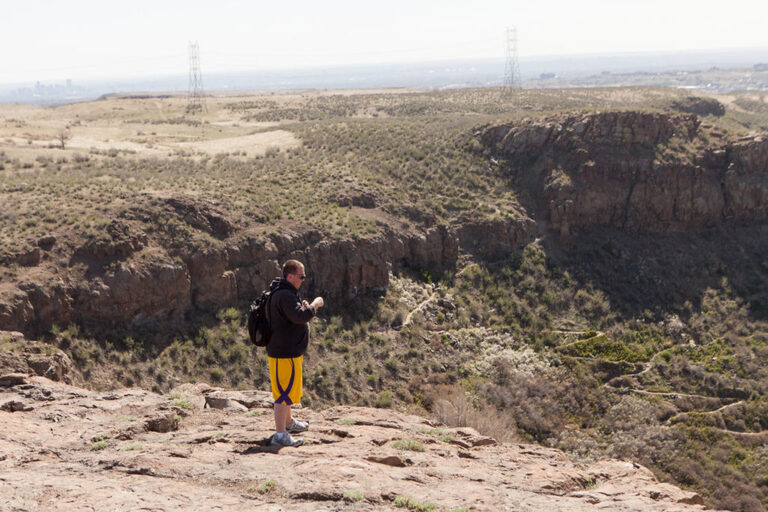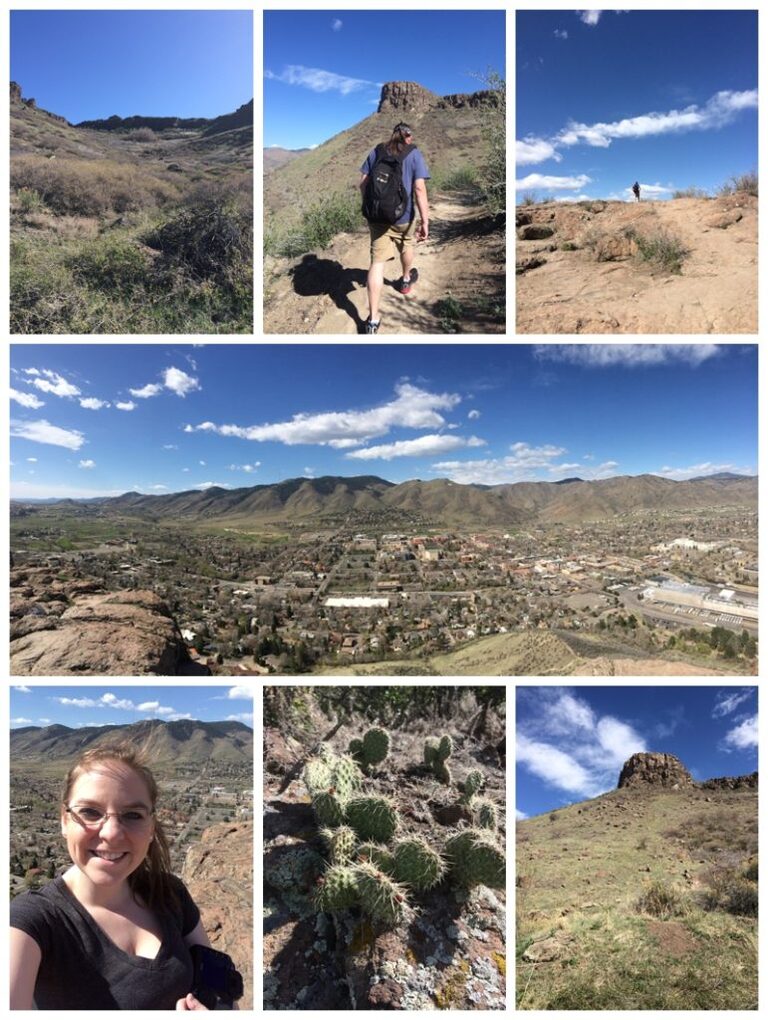 We headed out to another Rockies baseball game that afternoon, got the last of the bobble heads given away, and even found an arcade bar with 4-player PacMan, Giant Jenga, and Skee-ball.

Truly a Garden of the Gods
Our last day, we drove south to Colorado Springs and showed Michale the Garden of the Gods. I visited and climbed around about 3 years ago with my brother on one of our crazy summer road trips to/from Texas, but he showed us some spots I hadn't seen before. Plus, we only had a quick amount of time to buzz through before heading to the airport. There is always a 'view' in Colorado!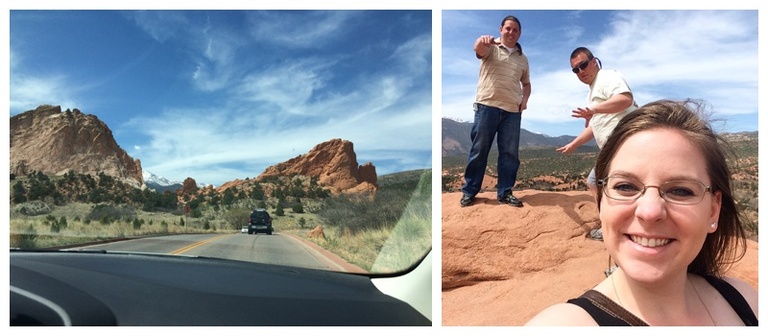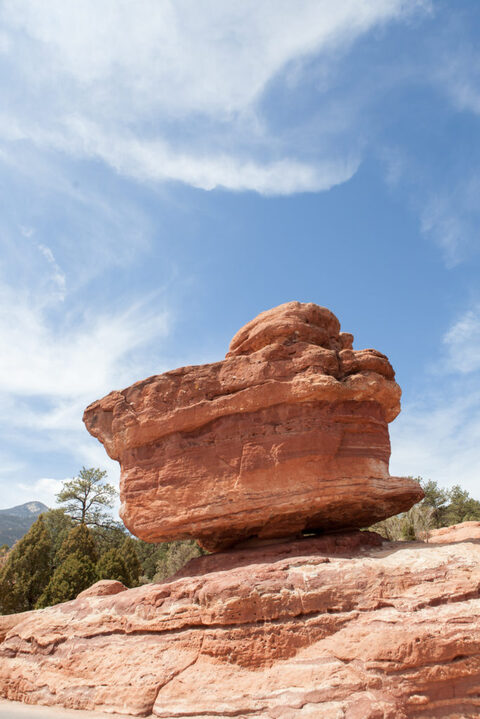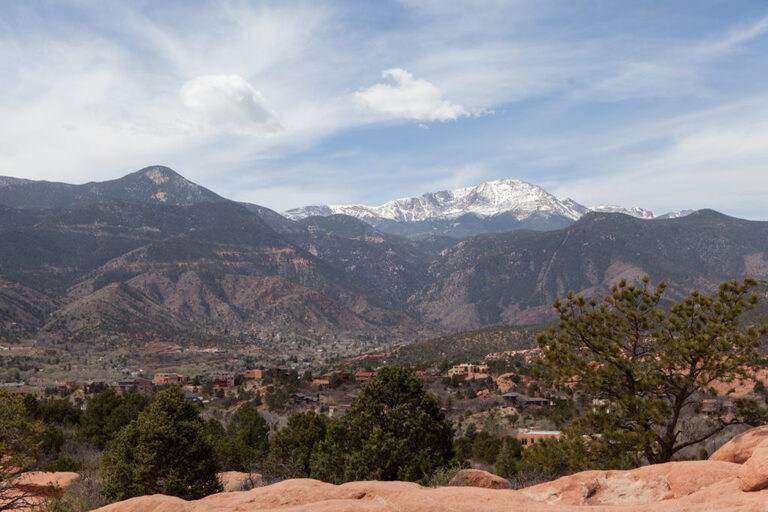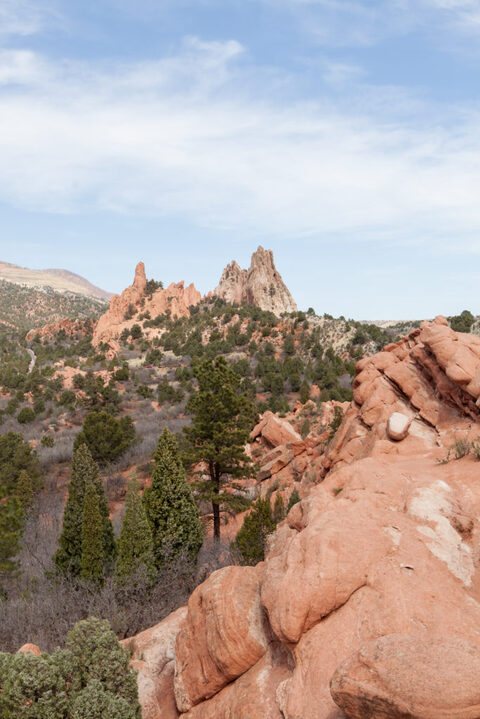 Denver Wins Again
All in all, I'd say it was a pretty amazing trip. I mean, how could it not be? The company was the best, the weather was perfect, and everyone loves a good vacation to unwind and unplug. Denver is always such a fun place to travel to!
Can't Wait to Visit Colorado Again
I would totally love an excuse to come back to Colorado again (aside from the bonus of visiting with my family again!). If you are looking for a wedding photographer, updated family portraits, etc, drop me a line! My bags are packed and ready to go, and I can only dream of the incredible backdrops and blue-sky weather for your outdoor wedding or family get-together in Colorado. I love to travel, and Colorado is my favorite place to visit. I can't wait to start planning our next trip out west!