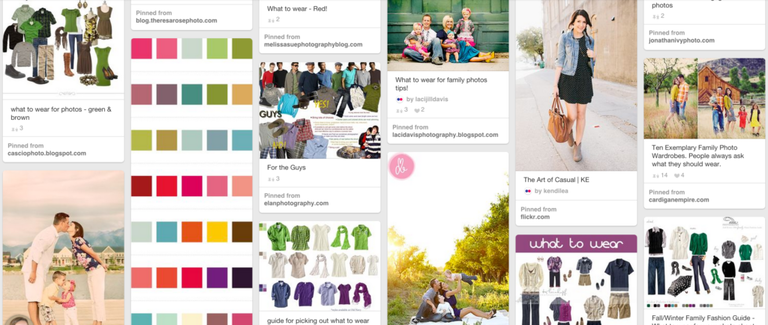 Clothing Sets the Tone For Your Photography Session
Location helps too, but how you dress can completely change the feel and mood of your pictures!  The goal here is to coordinate, but not match.  By this, I mean the era of putting everyone in matching white shirts is nearly over – let your personality shine and express yourself!  Have fun with your wardrobe.  If two or more people are included in your session, try playing with different shades in the same color family or break the mold completely and go crazy with color.  Neutral tones with pops of color are fun too!
Why Are You Having Pictures Taken?
How do you intend to use and display your images?  If your goal is to replace an outdated picture on the mantle, maybe you want to coordinate with your room colors.  Or if you are on-location at your alma mater, maybe you want to get decked out in your finest school colors.  Sophisticated, classic, eclectic, bright… Color will absolutely affect the mood of your images.
Do's and Don'ts For Wardrobe Styling
DO coordinate your colors – If there are 2 or more people in your session, set clothing out on the floor, table, or bed while you're planning to make sure they tie in together.
DO get creative with patterns – plaid and polka dots can belong together if paired correctly!
DO accessorize with hats, jewelry, scarves, jackets, etc.
DON'T wear athletic sneakers if it can be avoided!  Unless you're dressed in athletic gear for a sports shoot, find a nice casual shoe that you can pair with your jeans, shorts, etc.  You can still be comfortable and classy, guys!
DON'T sacrifice comfort for style – if you are uncomfortable with what you are wearing, it will show in your facial expressions.  I often recommend shopping from your closet, not the department store, while planning the wardrobe for your photography session.
DON'T be afraid to ask questions.  This is part of your photographer's job – to help you with your styling choices and be the expert for helping you plan.
I offer this to all of my photography clients and love helping you pick out your clothing!
Look on Pinterest for Inspiration
I am extremely active on Pinterest and love finding inspiration and new ideas there!  I even have an entire board just for wardrobe styling.  Check it out by clicking on the feature, below!
Follow Amanda Brendle's board Photography – What to Wear on Pinterest
Raleigh, NC Engagement and Wedding Photographer
Amanda Brendle is a photographer in Raleigh, North Carolina that has a passion for people in love.  She loves photographing couples as they embark on their journey towards marriage, brides & grooms saying their "I Dos", families with precious little ones…
Contact Amanda Brendle Photography today to learn more about how we can guide you and your family in creating timeless heirlooms to treasure for years to come.  Whether you are getting engaged, married, or have other life events you would like captured, we can help!